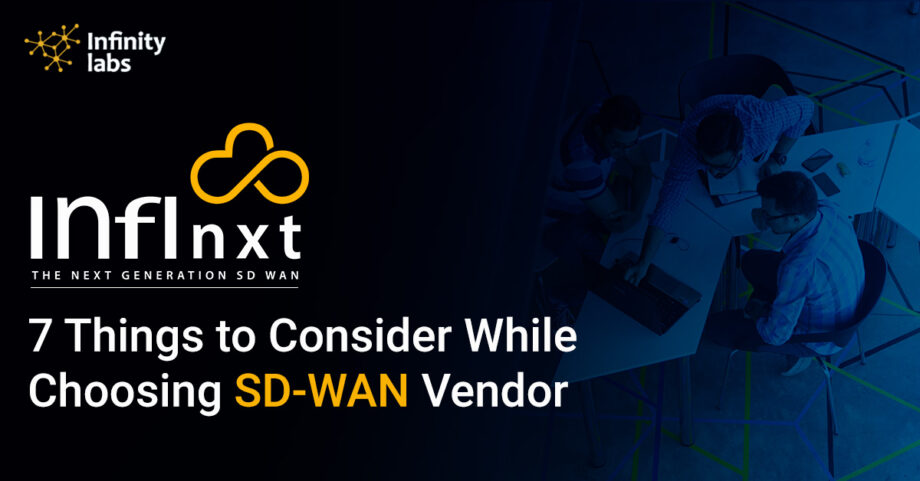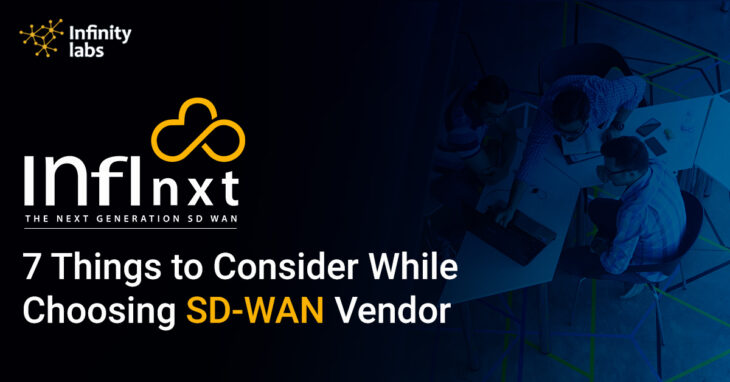 Enterprises today are adopting software-defined network management (SD-WAN) to prepare their networks for the future. In addition to cost savings, businesses are increasingly turning to SD-WAN technology for simplicity of deployment, flexibility, centralized administration, and intelligent network capabilities.
Multiple connections like MPLS, Broadband, dedicated internet, and LTE (soon 5G), may be managed by SD-WAN so that network managers can prevent bottlenecks during high traffic conditions As a result, businesses will be able to move more quickly towards a productive work environment.
It's important to choose an SD-WAN solution wisely, even if the advantages of this technology are obvious. Inaccurate information concerning SD WAN's capabilities abounds, as has been the case with prior technological adoptions. Choosing a solution provider becomes crucial and requires an understanding of what SD-WAN can do. What matters more than the vendor you go with is finding the right fit for your organization's objectives and goals.
Why is it Critical to Choose the Right Vendor?
An SD-WAN solution's design, implementation, and administration are directly influenced by a vendor's depth of expertise and variety of offerings. An organization's ability to scale their network to meet their future business needs may be profoundly influenced by the early choices it makes with its vendor.
First, the vendor should do the requirement assessment to identify the current network's quality. Companies may use SD-WAN to make the most of their network, but it cannot cure the underlying problem. It is important to ensure that there are no "potholes" in SD-WAN, much as GPS can guide automobiles to their destination but cannot guarantee a smooth ride which purely depends on the quality of road on the chosen route
Choosing the right SD-WAN Service Provider
Criteria for the Selection of Suppliers
SD-WAN deployments should be based on a set of criteria that enable network planners and corporate decision-makers to assess if a vendor's capabilities match the company's strategy. When looking for an SD-WAN network, consider the following factors:
Performance
Worker efficiency is greatly impacted by the network and programs that operate on it. First, a reputable vendor will suggest bandwidth enhancements if necessary, and then they'll make sure the applications run smoothly. The vendor should offer Application-aware routing to provide the best possible user experience.
This functionality keeps track of when and where certain services are being used by applications, allowing for better optimization and prioritization of critical application traffic. Besides, the ability to offload internet traffic guarantees that WAN services are accessible for real-time and mission-critical applications to optimize traffic flow.
Control and Visibility
Visibility into all facets of the network is essential for network administration, application performance monitoring, and overall environment security. Managers can't have the kind of control they need over a contemporary network if they don't have insight into it.
Networks with hundreds or thousands of nodes are particularly vulnerable to all kinds of attacks. Network disruptions may be avoided if a provider gives a complete insight into the network and the ability to control & configure network elements centrally
Security
It is impossible to put off addressing network security until the last minute. When choosing an SD-WAN company, look for the ones that value security. Secure tunnels and encrypted traffic are common features in SD-WAN solutions.
However, a security provider should include features, such as round-the-clock monitoring, managed firewalls, automated threat detection, alerts, and remediation, in their service. Security should be centrally controlled, policy-based, and simple to connect with all network assets to offer optimum protection at all network points.
Orchestration at the Global Level
Network provisioning, deployments, and modifications are simplified and expedited by orchestration to accommodate global advances throughout the infrastructure. It is feasible to automate network processes, monitor network service performance, and fix issues with little impact on users in the context of SD-WAN orchestration.
Thanks to software-defined, rules-based network management, most problems can be solved without the need for expensive truck rolls. However, if a site visit is required, working with a vendor that can react immediately, no matter where they are, is beneficial.
Remote Deployment
An SD-WAN and network functions virtualization (NFV) solution might help your firm deliver services over a dispersed network. This is how infrastructure hardware may be removed from certain sites. "Zero Touch Provisioning" is a key capability that defines the ability to roll out network connectivity quickly to new locations. Using virtualization and software-defined rules, administrators may quickly provision and deploy new services across their locations, saving time and money. The lower "Time to Market" can also be used as a competitive differentiator by businesses.
Cost
SD-WAN reduces the number of hardware controls that older, hardware-based networks require, making it more cost-effective. Moreover, it provides enterprises with greater control over their network management budgets and allows them to optimize capital expenditures (CAPEX) with dramatically reduce operating costs (OPEX).
Without a doubt, pricing differs from vendor to vendor for the secure SD-WAN solution. Network planners and business decision-makers should thoroughly study how solutions are priced and what functionality they offer to choose the most appropriate alternative for their needs.
Traffic Prioritization with the Use of SD-WAN
One of the most important things SD-WAN can accomplish for your company is balancing traffic loads and ensuring that the most appropriate connections are constantly utilized.
When evaluating vendor choices, this is something you should pay special attention to, since you'd want to be able to customize the settings to meet your specific requirements – now and in the future.
Conclusion
SD-WAN has several advantages for your business. Hybrid networks, such as MPLS, public IP, and fiber are infused with intelligence by this technology. SD WAN's centralized management and control allow your business to better use various network connections by selecting the optimum route across available network connections for applications. SD-WAN benefits both internal users and a firm's customers since it is a low-cost method of improving network and application performance.
A careful and deliberate strategy is required when selecting an SD-WAN provider to reap the advantages of the technology. Vendors should not blindly promote the idea that using broadband and SD-WAN is sufficient for a company's requirements. Vendors should be more concerned about delivering a complete solution rather than just selling their product.
Therefore, network planners and decision-makers must extensively study providers against the criteria outlined in this article. In doing so, your company greatly enhances its chances of reaping the advantages of an SD-WAN implementation. Combine it with a quality hybrid core infrastructure to achieve desired business objectives and optimum application performance, and the greatest end-user experience in the future.