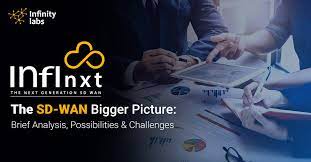 Secure SD-WAN's relevance as a must-have technology for modern enterprises and a key enabler of digital innovations has often been discussed at length. As the global market gears up for a value of over $ 40 Billion by 2030, let's explore its macro-level industry trends and put things into perspective.
SD-WAN allows you to better adopt cloud solutions, enhance productivity, transform customer experiences and reduce costs.
COVID-19 dramatically impacted most organizations, led to teams working from home, remotely accessing enterprise networks and other resources to maintain business continuity. The pandemic may be slowing down in many parts of the world; however, these developments are still pushing the adoption of remote solutions and high-performance WANs.
Fast-paced technological advancements and requirements for agile yet secure IT networks are reiterating the necessity of SD-WAN for enterprises of all sizes. The demand for SD-WAN services continues to accelerate and could go up 1.3X in 2021.
Staying competitive and achieving the desired business success involves having a comprehensive bird's-eye-view of the SD-WAN market landscape and how it will act during the forecast years. Credible market research promotes informed decision-making, resulting in seamless operations and improved profitability.
Infinxt Secure SD-WAN ensures business agility, inherent economics, and optimized cloud architecture. It offers incomparable features, enterprise-class security through an inbuilt next-generation firewall (NGFW) powered by Palo Alto Networks, improved application performance, user experiences, business productivity, and reduced costs.
Discover more about InfiNxt – The Next-Generation Secure SD-WAN.
Sources: Data Bridge Market Research, Persistence Market Research, Global Market Insights, Global Trends Report 2026, Prescient Strategic Intelligence, Market Watch, Markets and Markets, The State of SD-WAN in India Report 2020, IDC, Statista, Gartner, WAN Manager Survey 2019, 2020 State of Operational Technology and Cybersecurity Report, BusinessIQ, The Courier, Wikipedia, YouTube, and other independent information sources
………………………………………………………………………………… The End……………………………………………………………………………………………..