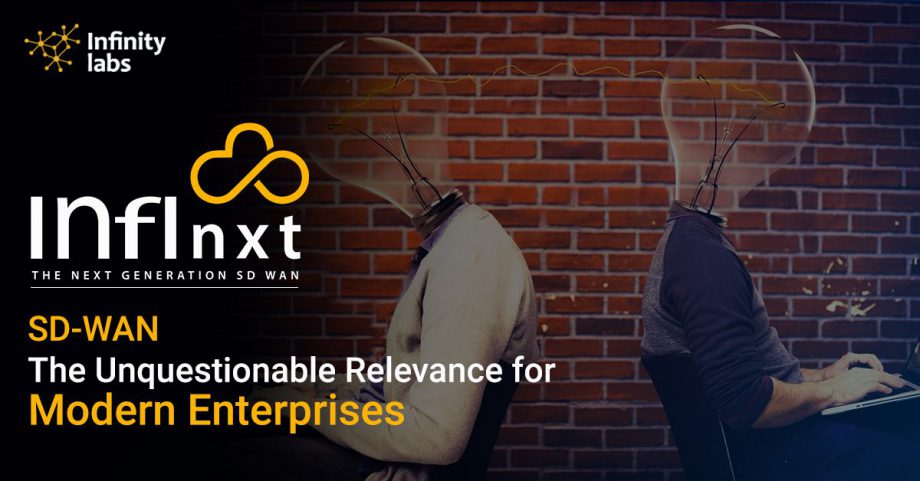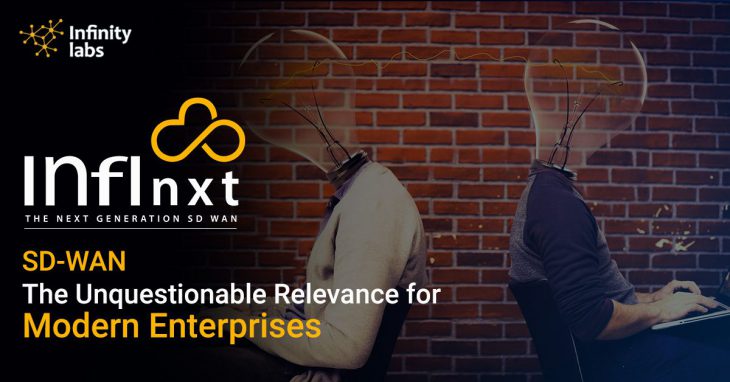 The COVID-19-ridden 2020 has been full of uncertainties, evolving situations, and revising-conclusions for organizations across sectors. However, it has also successfully categorized most enterprises as digital businesses, with 70% of them opting to increase or maintain digital transformation spending during the pandemic.
Modern Growth-oriented Enterprises are Often Identified with:
An ever-developing business landscape.
Spread across multiple geographic locations, remote branches, and offices.
Operating in data-heavy cloud-reliant digital environments.
Utilizing bandwidth-hungry software applications.
Effectively managing internal online interactions requires an integrated, streamlined, and easily-manageable network with smart high-speed connectivity.
Challenges with Legacy Infrastructure, Traditional WAN [Wide Area Network] architectures, and conventional network implementation over MPLS [Multiprotocol Label Switching]:
Takes months to complete the implementation.
Optimized for traditional businesses and primarily connects static locations.
Unable to meet digital-driven bandwidth demands.
Backhauling traffic from branch offices to the headquarters adversely impacts application performance.
Not cost-effective and needs considerable effort from the IT staff to manage.
"The increase in cloud adoption for business applications throughout the enterprise disrupts the prominence of MPLS-based WAN connectivity to the branch. SD-WAN is increasingly leveraged to provide dynamic connectivity and automate path selection in a policy-driven, centrally manageable distributed network architecture." – IDC.
SD-WAN (Software-defined Networking in a Wide Area Network): The Viable Alternative
The next generation of WAN connectivity is the most recent and sought-after approach to configuring, implement, and managing an enterprise WAN.
A virtual WAN architecture that relies on software-defined networking (SDN).
It uses a centralized control function to securely and intelligently direct traffic across the WAN.
Controls connectivity/management/services between data centers, remote branches, or cloud instances.
Scores over the Traditional WAN / MPLS: Bandwidth, Intelligent Routing, Simplified Control, Reliability, Security, Scalability, and Cost
SD-WAN, unlike MPLS, can be quickly deployed, within a week.
Appropriate for cloud-first businesses looking for enhanced flexibility and control.
Suitable for increasingly-mobile workforces, requiring access to data/applications on the move and from their devices.
Operationally-agile and cost-effective than MPLS.
SD-WAN's Advantages: The Way-forward for Modern Enterprise WAN Connectivity
1] Faster deployment and fewer complexities:
Setting up SD-WAN is speedier than traditional routers/gateways.
Its zero-touch provisioning eliminates the need for an expert's presence at the branch site or to set it up remotely.
The SD-WAN hardware box can be plugged-in by individuals with little or even zero IT skills.
A negligible burden on in-house teams allows them to focus on other productive tasks.
Replaces the dependence on multiple ISPs and offers flexibility to select the software as per the solution requirement.
Automates monitoring-tasks, off-loads non-critical business apps, and manages traffic through a centralized controller, simplifying WAN infrastructure.
2] Better agility, network/application performance, cloud usage, and extension to new areas:
SD-WAN integrates with various underlying architectures, from MLPS, and Ethernet, to Wi-Fi and Broadband.
It brings down task completion times, and the traffic gets immediately rerouted when a link fails/becomes congested through real-time traffic management.
Network traffic travels independently of the transport layer, implying greater performance and network visibility.
Network-traffic-steering abilities ensure the traffic is auto-switched on another WAN connectivity within the organization, with zero downtime.
Routine network issues such as jitter and latency are reduced by automatic funneling of traffic through the fastest-most-reliable connection.
Network engineers can swiftly respond to new WAN services' requests and make changes to existing ones.
Application availability and performance are improved by monitoring link health and redirecting traffic.
Automated link switchover and pre-built policies for specific-application prioritization advance user experiences.
Centralized and cloud-based deliverance comes in handy, especially for enterprises using applications residing in the cloud.
SD-WAN conveniently sets up internet break-outs at remote offices, adding to cloud-based applications' performance.
The latency reduces, and SaaS, and other cloud-based applications' user experiences go up by removing the need for backhauling traffic through a central point of internet access.
Enables WAN to extend into new areas previously regarded as expensive or difficult to reach, covering home workers, non-traditional locations, and remote sites.
3] Robust security, cost savings, and RoIs:
SD-WAN implementation clears away the necessity of data continuously traveling back to data centers.
Inbuilt security protocols, data encryption capabilities, and advanced threat intelligence systems keep devices, applications, and users safe. SD-WAN with integrated security features, NGFW, IPS, AV, and sandboxing capabilities must be preferred.
Saves at least 25% and up to 39% operating, administration, network services, and maintenance costs, based on your network's specifics.
Helps achieve double-digit RoI within a few months of deployment.
Digital is now accepted as an integral part of every business, irrespective of its size of operations. Digital transformations have moved from conceptual discussions to practical implementations, 97% of IT decision-makers are involved in these initiatives, and 87% of senior business leaders view digitalization as a top priority.
Cloud computing plays a crucial role in digital transformations. Modern enterprises are adopting cloud-based infrastructures and migrating applications to the cloud at a brisk pace. An estimated 80% of enterprise IT could exist in the cloud by 2025.
Enterprise WANs and their predominant technology, MPLS, are trying to keep pace with these developments. MPLS was undoubtedly the go-to solution in enterprise WAN before cloud computing and mobile smart devices gained momentum. It still reliably routes traffic between two static locations; although, it is not seen as the best fit for meeting cloud and mobile demands.
Many enterprises have been exploring a hybrid approach by supplementing MPLS carrier-managed private lines with IP virtual private networks. They are quicker to set up, and less expensive but lack MPLS QoS and CoS manageability. The arrangement is insufficient to address the growing dependence on cloud services.
"Outdated network infrastructure can fundamentally curtail business performance."
That's where SD-WAN comes to the rescue!
SD-WAN's adoption expanded from 35% in 2017 to 54% in 2019, and its market size crossed the $1 billion mark. The global willingness to simplify network management can make it grow at a CAGR of more than 60% from 2020 to 2026. 36% of enterprises are actively researching the merits of technology, and future adoption rates are likely to reach 90%. 
The growth drivers? A surge in adoption of SD-WAN due to rising IoT trends, implementation of SD-WAN for CAPEX/OPEX savings, increased business agility/responsiveness, and expeditious migration towards cloud-based applications.
SD-WAN outperforms traditional technologies like MPLS, excels in multi-provider/multi-connectivity environments, and provides features/functionalities of cloud-based networking and flexible payment modes.
Be it established, large enterprises, medium, or small-scale businesses, SD-WAN is an accessible gateway to secure and reliable WAN.
Infinxt SD-WAN, a secure SD-WAN, ensures business agility, inherent economics, and optimized cloud architecture. It comes with an inbuilt next-generation firewall (NGFW) powered by Palo Alto Networks and results in increased application performance, improved user experience, enhanced business productivity, agility, and reduced IT costs.
Learn more about InfiNxt – The Next Generation SD-WAN.