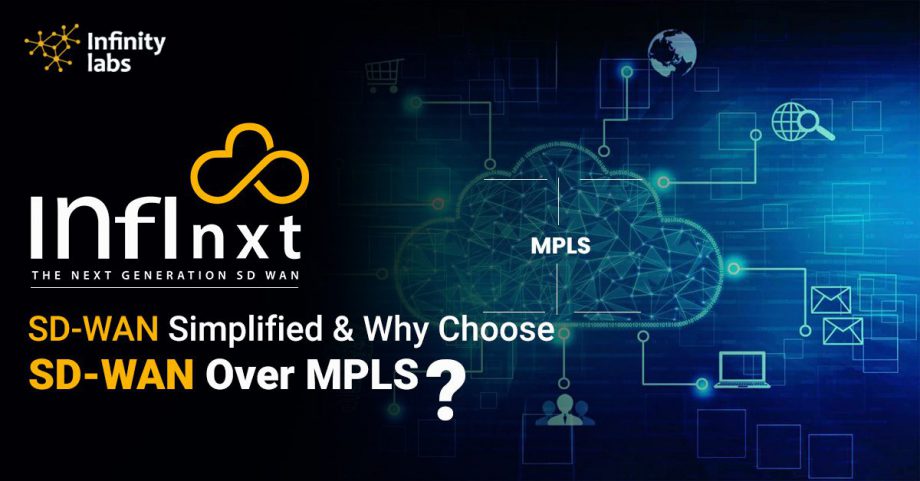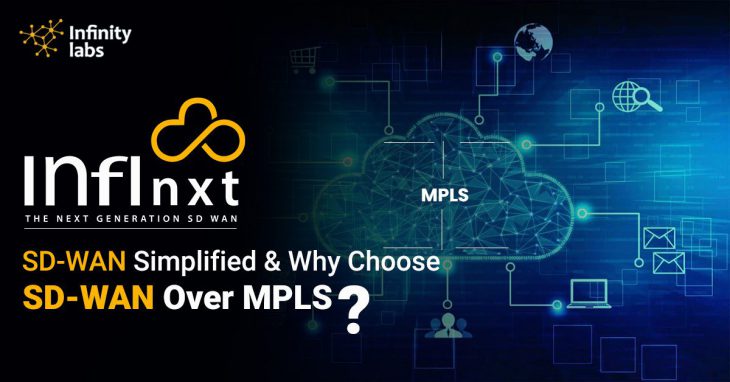 The Growing Relevance of cloud-based computing, storage, and SaaS platforms has put a spotlight on enterprise networking. Over 92% of all enterprises currently use cloud-based software. A robust and resilient network is the key to addressing ever-increasing demands and expanding needs for networked business-critical systems.
Strategic consideration of the WAN [Wide Area Network] architecture, enhancing WAN capabilities, and carefully selecting an appropriate protocol for your network traffic can have significant implications.
How does an enterprise seamlessly connect multiple locations/users to business-critical resources, balance performance, reliability, and cost?
Go with MPLS [Multiprotocol Label Switching], the traditional networking technology, and a WAN connectivity option, or opt for SD-WAN [Software-Defined Wide Area Network], the most-recent capability in WAN and a highly sought-after industry-agnostic solution?
The world is fast moving away from typical routers to SD-WAN. It is undoubtedly establishing its acceptance with every passing day. However, is it better than MPLS?
Let's understand MPLS and SD-WAN in plain and simple terms, their advantages, and their workings. We'll also explore the reasons for picking SD-WAN over MPLS.
MPLS & Advantages:
Multi-Protocol Label Switching.
Launched in 1997 as a replacement for multilayer switching and IP-over-ATM.
A protocol-agnostic routing technique to control the flow of traffic over a network between locations.
Considered the staple of enterprise connectivity and a network mainstay for many global enterprises.
Suitable for high-performance distributed networks and real-time applications.
Pre-program different types of data with various priorities and classes of service.
Reliable packet delivery maintains data quality and traffic predictability.
Scalable network.
MPLS Working:
It works like network routers and switches.
Delivers traffic based on the type, priority, and where it's going.
Utilizes immensely efficient and predetermined routes through a private network.
Gives enterprises the peace of mind that real-time traffic will reach their destination using a low-latency route.
Software-Defined Wide Area Network.
An overlay is defined by software that sits on top of MPLS and internet connections.
A virtual WAN architecture, programmatically-configured, and managed WAN.
The software technology for configuring and implementing an enterprise WAN is based on software-defined networking (SDN).
Enables leveraging combinations of transport services, including MPLS, LTE, and broadband internet, for securely connecting users to applications.
Centralized control adds to the application performance, delivers a high-quality user experience, and improved business productivity, and agility.
Easily manageable or configurable interface and policy-based management.
Supports various connection types, VPNs, and third-party services.
Application and cloud-usage optimization, secure communications, speed, and a variety of deployment options.
Reduces common network issues.
Strong network security.
Cost savings and faster RoI.
How does SD-WAN work?
It brings a centralized control function to securely and intelligently direct traffic across the WAN.
Uses intelligence, identifies applications and provides application-aware routing.
Every class of applications receives the appropriate QoS and security policy enforcement per business requirements.
Utilizes software to control the connectivity, management, and services between data centers, remote branches, or cloud instances.
Secure local internet breakout of IaaS, SaaS application traffic from the branch ensures superior cloud performance and protects the enterprise from threats.
Why Prefer SD-WAN Over MPLS?
SD-WAN provides higher performance than MPLS, scoring well on agility, flexibility, and scalability.
It combines MPLS, internet, and LTE to stay connected and creates a hybrid network that can switch between, depending on packet rate/real-time network performance.
Mitigates the need to scale your expensive MPLS and allows the software to maximize the existing investment.
Increases uptime, allows your organization to aggregate multiple ISP Internet, WAN connections at a single site, and has seamless circuit redundancy for your WAN.
ISP-agnostic SD-WAN lets you add/remove ISPs at any site and time, with ease.
SD-WAN offers an additional security layer and enables you to send information without transmitting it to third parties.
MPLS doesn't bring encryption, poses a risk of data transfer to third parties, and remains vulnerable to cyberattacks.
SD-WAN, unlike MPLS, doesn't have bandwidth penalties.
Clients can upgrade merely by adding new links, without making changes to the network or infrastructure.
It is cost-effective, and you can use less expensive connections for some business applications. MPLS comes with steep bandwidth costs.
The emergence of the cloud, advanced business applications, and complicated workflows need a dynamic connectivity environment. The traditional WAN is no longer sufficient, as backhauling all traffic from branch offices to the headquarters impairs application performance. Integrating cloud data with a robust network architecture to harness SaaS applications' benefits is not possible with MPLS.
SD-WAN leads to WAN simplification, bandwidth efficiency, low costs, a seamless on-ramp to the cloud with substantial application performance, and zero security/data privacy risks.
In 2019, approximately 83% of companies were at least considering SD-WAN, and 43% had already adopted or were in the roll-out phase. The numbers could substantially go up, spending on SD-WAN products is set to reach $1.3 billion by the end of this year, and 90% of router refreshes by 2022 will be replaced by vCPE or SD-WAN.
SD-WAN undeniably brings a lot to the table and outweighs MPLS on most fronts.
Infinxt SD-WAN, a secure SD-WAN, is widely acknowledged as the go-to solution for ensuring business agility, inherent economics, and optimized cloud architecture. It comes with an inbuilt next-generation firewall (NGFW) powered by Palo Alto Networks and results in increased application performance, improved user experience, enhanced business productivity, and reduced IT costs.
Learn more about InfiNxt – The Next Generation SD-WAN.
Sources: WAN Manager Survey 2019, the State of SD-WAN in India Report 2020, Brodynt, Govtech, CATO, Forcepoint, Solis Security, Search Networking, Field Engineer, CBT Nuggets, Network World, IDC, ET CIO, World Wide Technology, Statista, Gartner, AI Multiple, Digi Analysys, Wikipedia, YouTube, and other independent information sources.