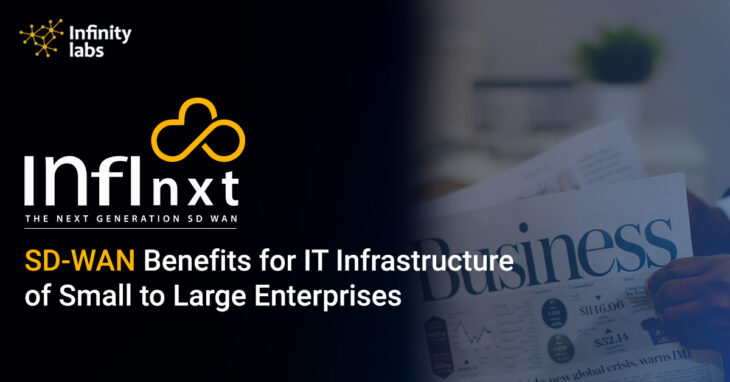 The report says that the implementation of SD-WAN is useful for businesses of all sizes that require connectivity among offices and cloud applications. A small network issue or downtime can cause a lot of impacts on a business's productivity. Be it a small company or a large enterprise, they can achieve easier network operations and connectivity by implementing SD-WAN.
Let's have a look at these pointers that justifies how SD-WAN benefits for IT infrastructure of small to large enterprises:
Easy and quick deployment
Regardless of the size of the business, every IT setup of the enterprise requires a network for precise connectivity. Whether you've multiple branches or just a small business spread across, moving to the SD-WAN is of great importance in terms of deployment. When an enterprise chooses SD-WAN, this solution brings ease to the deployment and management of its entire WAN networking services. As a result, the overall networking process and connectivity get simplified.
One thing to note, this new WAN technology ensures deployment and management while keeping the IT costs within the budget. SD-WAN technology will simplify the process of deployment without having any issues of network complexity.
The business when shifting to SD-WAN witness many advantages and simplified deployment and management of the network is one of them. The features of SD-WAN allow businesses to manage all the branches and remote locations from a central point. In addition to this, software-defined WAN solutions can easily function on multiple network links through a centralized location. Apart from this, SD-WAN benefits businesses of all sizes in managing effective path selection in case of automatic network fail-over.
Simplifying the network complexity
Be it a large organization or a small business, it is crucial to maintain the IT infrastructure and networks. There will be a need for quick and safe data transfer from one branch to other site locations. Any minor issue with the network can slow down the overall productivity of the business.
Digital transformation leads to additional usage of layers of devices and applications in the network. As the number of devices increases, it ultimately causes an increase in network complexity. SD-WAN solution brings an advantage in solving the problem of network complexity. Network failure or outage not only impacts the network connectivity but also puts pressure on the IT team.
Management of these complexities of the network sometimes is not possible even with competent IT experts. The management of networks and resolving the complexity of networks can be handled well with SD-WAN.
Boosting the network's security
Security is crucial for enterprises of any size. Be it a small startup or a large enterprise, they all want to secure their data. Security is a main concern especially when they've multiple access points at different branches and offices. However, the implementation of SD-WAN comes with a secure overlay that ensures security within the network.
The in-built features of SD-WAN help businesses keep their data safe from cyber threats. This newer technology also extends the location of the WAN from the cloud to the local branch which ultimately ensures complete security. In a small business, SD-WAN help in ensuring security by limiting network attacks and preventing any sort of breaches at the branches and remote locations.
SD-WAN enhances the security of businesses of all sizes because of this most companies look for reliable SD-WAN vendors India. By connecting with the vendors, enterprises will be able tofix the business's requirements for network security.
Cutting down the IT and networking costs
For many enterprises, moving the data packets and managing the real-time applications can be very expensive. But, SD-WAN is one such technology that provides organizations with the flexibility and benefits to route data that is best and available at the moment. As a result, businesses will be able to reduce costs to a great extent.
If an enterprise doesn't want to route data over a carrier network then they can choose SD-WAN as they can use cloud for this. So, it is worth noticing that SD-WAN helps enterprises to reduce operational costs especially if the company is in an expansion or initial phase.
Highly Scalable
The solution is highly capable to cater the current and growing needs of the business with much ease and simplicity. SDWAN solution are built to provide scalability which helps to manage the customer entire WAN centrally. The entire solution is software driven which gives you the flexibility to accommodate the new sites across locations over any type of transport.  
FAQs
What problems can be solved with the implementation of SD-WAN?
With SD-WAN technology, various network issues and challenges can be solved. Due to digital transformation, businesses are facing problems in connecting secure networks. Therefore, the SD-WAN solution is an ideal option for businesses of all sizes with various remote locations & sites. It also eliminates the requirement for private lines, which are expensive for many enterprises to maintain. If you've any requirements for SD-WAN deployment then you can consider contacting Infinity Labs.
What company uses SD-WAN technology?
Enterprises and businesses undergoing digital transformation are switching to SD-WAN architecture over the traditional one. As per a report, approximately 75 to 80% of enterprises have switched to SD-WAN solutions because of their features and functionalities. The usefulness of SD-WAN is not confined to just one industry or company. Right from manufacturing to IT and healthcare to retail, the integration of SD-WAN can be seen in all companies.
Why SD-WAN is worth implementation in an enterprise network?
The usefulness of SD-WAN involves improvement of the WAN connection's performance and securing the network. In addition to this, SD-WAN technology also helps in cutting down the additional expenses of a company. Fortunately, there's SD-WAN that also removes the IT burden of the IT team by simplifying the network and automating the tasks.
To sum up
From the above, it's clear that with SD-WAN integration, organizations will be able to witness a reduction in IT costs and the removal of network issues. Businesses ranging from startups to large enterprises have already switched to SD-WAN because of multiple features and benefits.