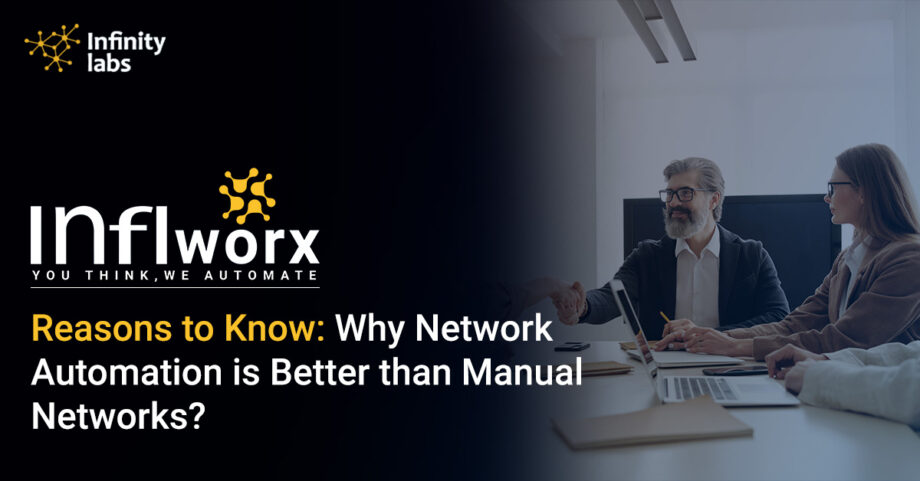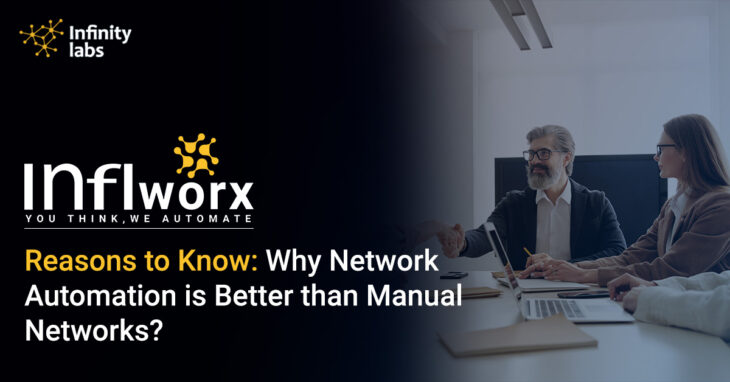 The acceleration of digital transformation makes most businesses go for network automation. One of the main roadblocks for most organizations is that their enterprise network is challenging and complex. Manual networks contribute a lot of challenges which leads to the increased complexities in the network. This is one of the reasons, why Network Automation is better than manual networks. Not just this, you can witness many other ways in which it is better replacing your maniac networks with automation
Let's check out some of the reasons that justify that network automation is better than manual networks.
Manages network challenges well
As digital transformation is taking place, enterprises are switching to a new model of networking. This model consist of multiple uses of devices and applications.Because of this, several devices transfer and receive data for ensuring better connectivity and communication. But, the real challenge starts when it comes to the management of all these devices and networks. If an enterprise is still using the traditional network, the entire configuration, tracking, and management gets difficult. As a result, enterprise networks will have to witness several sorts of network problems.
If it is about managing the network challenges then a business should only rely on network automation and not on traditional networks. VPN errors, traffic congestion, network downtime, outage, slow performance of applications, and glitches in internet connection are some frequently happening network troubles.
When such issues occur in a network, the IT team has to take care of them manually in manual networks. This is a time-consuming process and will keep the IT team busy all day long. Thus, manual networks won't be efficient in managing these issues and improving network performance.
Relying on network automation is the best solution that a business can do for its IT practices. With automation in networks, it becomes easy to get insight into resource allocation, security, and network performance.
In simple words, all network complexities require automation so that the issues cannot impact the network and the IT team's work can be simplified.
Reduces human intervention and decreases network errors
Reduction of human intervention is one of the aspects that make the automated network better than manual networks. Reducing errors in a network is crucial as it can sometimes lead to outages and downtime. In such a situation, it is the business that will suffer a lot in terms of productivity and efficiency.
So, the enterprise's main concern is decreasing the number of network issues and errors should rely on automation. IT automation hardens security and removes human errors by giving insight into real-time data analytics. Along with this, you can get troubleshooting recommendations to enhance the network. It becomes easier to prevent manual mistakes when you introduce automation in networks.
As the automated network utilizes software upgrades, it alerts the IT team about the issues that can occur during the upgrade. So, a manual network is not an efficient option for businesses with different offices and branches.
Around 30% to 40% of network errors occur due to manual intervention that is not at all considered good for a business. Therefore, automation uses the latest technology and software to reduce human involvement in networking and decrease errors.
Facilitates visibility into network
With manual networks, the IT team cannot get an insight into what is happening. What network trouble is expected to happen? Is there any slow performance issue? In manual networks, these issues can only be detected once they have already occurred. But, automated networks are an innovative technology that provides precise data analysis of the network.
Automation integration in networks also ensures the visibility of the network to the IT team so that they can understand how it works. Once you're able to know all these things, businesses can quickly make strategic business planning.
When you implement automation, you also get multiple monitoring tools that feature wide-ranging performance-tracking capabilities. With this, the IT team will be able to detect errors and performance issues on the network. In addition to this, it let the IT teams predict the issues that can occur in the future.
One of the crucial benefits of automation is that it facilitates complex network analysis. Network automation platforms do this by retrieving data from different devices and sources like switches, routers, etc.
By implementing automation, IT teams of the enterprise also get the ability to perform service-level agreement tests with efficiency and precision.
Improves network reliability
Automation is a better option for enterprises than manual networks as it also ensures reliability. Building a reliable network is vital for any organization. This is why, businesses choose IT automation. It can ensure timely updates and maintenance that helps in enhancing the functioning of the network in a productive way.
When a business relies on traditional networking, there will be no resilience. Be it regular updates, tracking, configuration, and management, automation will do all these things with ease.
An automated network can easily perform regular checks and updates. Smart automation technology utilizes a better approach to maintain the configuration of the network.
The integration of automation in the network brings a lot of changes positively that include security, visibility of the network, performance improvement, and so on. Along with this, automation also alerts IT professionals about predictable issues.
To sum up
Automation of the networks helps businesses to scale their IT set-up, simplifying network management and decreasing human errors. In addition to this, it can help in running an analysis that helps the IT team to detect and identify network issues. All these things cannot be done when you use manual networks. So, most organizations have replaced manual networks with automation to ensure productivity and smooth functioning.