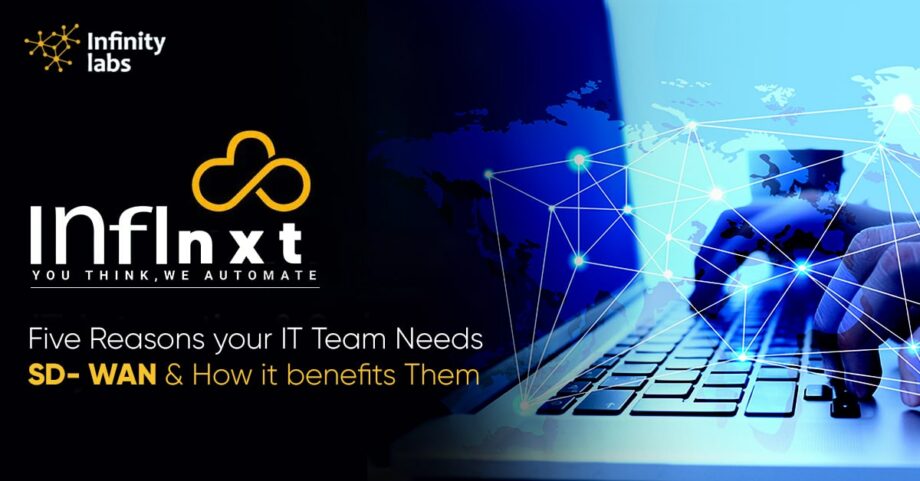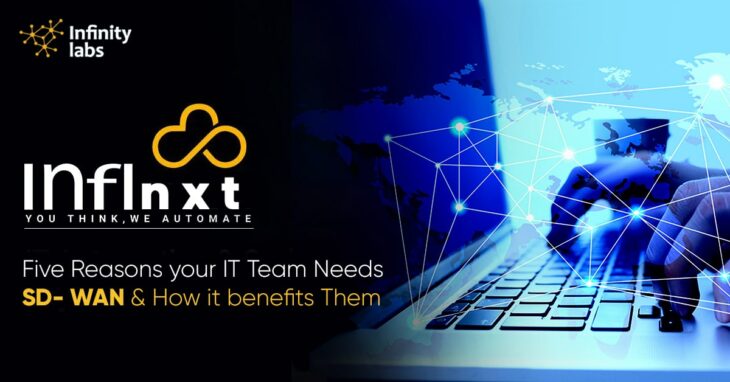 Software-defined wide area networks (SD-WANs) are becoming increasingly popular among organizations eager to embrace digital transformation. An SD-WAN makes managing and operating a WAN easier, reduce network complexity, and increases network visibility.
However, what exactly does this networking solution entail? How can it improve your IT team's performance? Take a look at today's top SD-WAN network benefits for IT teams.
How does SD-WAN benefit IT Teams?
The SD-WAN model differs from the traditional WAN model in that it is software-defined (of course). Unlike traditional networks, a software-defined network layer is an abstraction over existing connections or private circuits.
Any branch can be connected to the SD-WAN from anywhere, using any combination of circuits (including wireless). Control plane applications provide IT, staff with visibility and control over network performance, and changes are made easily. A combination of lower-cost white-box hardware at the edge and standard servers in the core allows IT to optimize costs and avoid brand-name markups.
IT teams benefit from SD-WAN by operating through software in a number of ways, including
A global network
The SD-WAN solution is a provider-agnostic networking solution that doesn't rely on a specific provider's footprint to function. IT teams can thus ensure complete business continuity by using public and private cloud instances to create global networks with consistent performance wherever they may be located.
Enhanced bandwidth
A WAN model limits bandwidth to what the telecom provider or network provider can provide at each site and what the site is willing to spend. When costs are too high, a site may suffer from poor network performance due to compromised performance.
By using diverse internet-based circuits, IT groups can enjoy the benefits of a more cost-effective, faster, load-balanced network with seamless failover and a network that requires no intervention during failover, thanks to SD-WAN capabilities.
What are the features of SD-WAN?
Provisioning prowess:

Time-constrained IT teams can ease their burden with a device provisioning automation solution. Utilize a centralized controller that can scale easily and provision branches quickly using capabilities like ZTP (Zero Touch Provisioining) or OTP (One Touch Provisioning).

Easy deployment:

Streamline SD-WAN deployment and management with a solution that supports all components, including networking, traffic management, and security policies, through a single pane of glass.

Relief from bandwidth constraints:

Adding more MPLS bandwidth to a wide-area network (WAN) doesn't require a weeks- or months-long planning process. Organizations can quickly utilize widely available business broadband offerings with

SD-WAN router

solutions to increase bandwidth and ensure optimal network and application performance.

High performance

: With application steering, you can prioritize business-critical applications through constrained network paths. SD-WAN solutions that support a broad range of applications, especially latency-sensitive ones, can improve cloud application performance and enable branches to communicate directly with the Internet.

Exceptional reliability

: SD-WAN solutions automate failover to the best available link by gathering granular WAN path information. With the help of this path awareness intelligence, the network can be reliably connected, ensuring greater continuity of business operations.

Comprehensive policy management

: Using SD-WAN with a management console, IT teams can maintain policies across many devices and applications across multiple locations, even on everything from security to application filtering. This ensures compliance to IT policies with minimal fuss.
Five Reasons your IT Team Needs SD-WAN
When you are adopting more and more apps into your organization, you need a way to ensure that every app will run fast and perform well over the long term. SD-WAN offers deep visibility through integration with cutting-edge HDX technology for a seamless user experience.

A virtual session remains responsive, even in the midst of massive file transfers or graphics-intensive printing, because real-time traffic is prioritized ahead of background functions. It ensures that images and videos remain pixel-perfect.
Minimize Networking Problems
The SD-WAN technology is the best option for achieving an always-on digital workspace experience. Just a few packets are required to trigger failover in response to the slightest change in network state, and it takes mere milliseconds to react to the change.
You will be able to classify and route numerous apps at the packet level by applying policies at both the sending and receiving end of the network and providing replication and quality of service options for both ends.
An IT team can also significantly increase its ability to protect its data by utilizing a centralized and software-based model, including built-in monitoring, encryption, and multiple circuits with packet-based load balancing.
An SD-WAN can (or must) be integrated easily with existing centralized security/firewall products to offer a seamless end-to-end security solution. Each customer's needs may vary regarding security, and SD-WAN solutions should accommodate these differences. Ideally, edge CPEs would function as universal CPEs and host security/firewall instances on every site if needed.
Improve ROI for your Microsoft investment
SD-WAN is especially useful for organizations that rely heavily on Microsoft Office 365, Azure, and other cloud-based services. The automatic on-ramp to Azure creates a seamless extension of your network to the public cloud, while the point-and-click provisioning tool makes it easy to route traffic to the public cloud directly from your network. Also, SD-WAN integrates with Office 365, automating traffic based on Microsoft's recommendation for reducing latency with traffic.

Ensure SAAS App Performance
Having enterprise-grade access to all apps ensures the best user experience for every user, regardless of the app. As legacy WAN architectures were not designed to accommodate cloud apps, SDWAN Cloud Direct and SDWAN as a Service are solutions that can help. A private overlay network connects 150+ SaaS and cloud providers by directly peering with points-of-presence (PoPs) near major SaaS and cloud services.
Conclusion
There is no doubt that SD-WAN has the potential to provide IT teams with increased freedom and security, as well as significant cost savings and control. Looking for reliable SD-WAN vendors in India? Contact our Infinity Labs team today to discover the SD-WAN solution that works best for you.