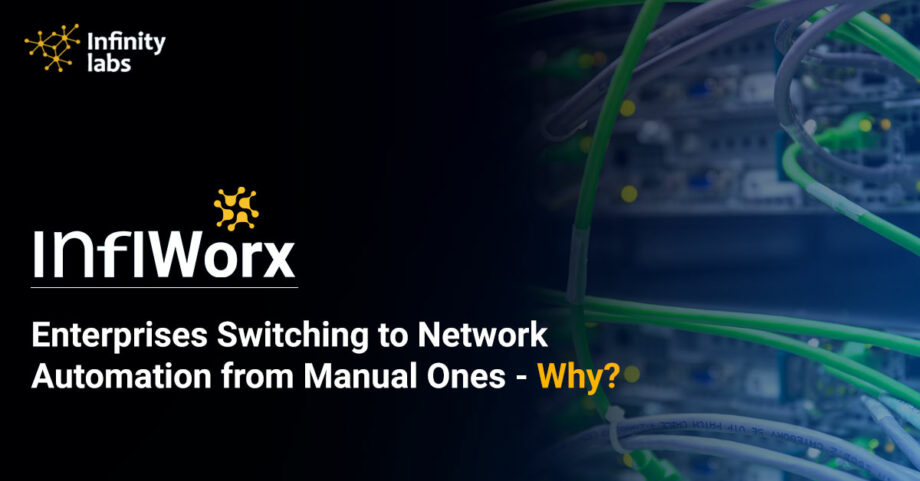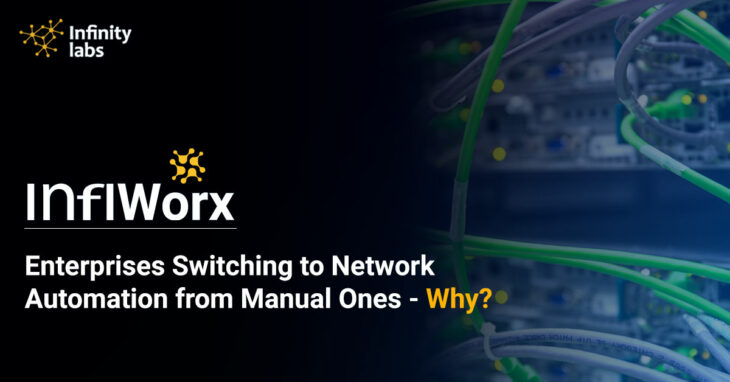 Saying wouldn't be wrong that automating the enterprise's network will contribute to the business's growth. Today, digital transformation has compelled enterprises to shift to network automation from manual ones. Why? Well, businesses that aim to prevent network failure, outage, and performance issues are switching to this automated network. Not just this, automation improves network's performance so that enterprise can achieve better productivity.

According to a report, the automation market is about to grow by 22.48% by 2027. With this, it can be understood that many big enterprises have now shifted their business to automated networks.

If you want to know why enterprises are switching to network automation from traditional networks then read this. Some crucial reasons make enterprises change their network:
Boosts the performance of the network
If we are talking about the vital reasons for switching to automation then we cannot forget about performance. What is needed the most in a network? Well, it is the performance of the network that automatically enhances the overall productivity of any organization.
In an enterprise, there's a great need for optimization of the network performance. These days, digital transformation makes utilization of several devices in the network. This will surely help an enterprise to achieve what it requires in terms of networking but impacts the performance. Because of this, there can be seen performance related issues.
If any issue happens in the network then the network engineers and IT professionals have to manage all entire issues. But, managing the manual process would not be easy for the IT team also. This is why it is always crucial to switch to network automation for optimizing the performance of the network.
Here is how an automated network optimizes the network:
With the help of IT automation, there will be faster key data services faster and easier usage of new applications. With automated updates, it becomes easy to attain optimal network performance. One thing to consider is that this is not possible if an enterprise is still using a manual setup. For the manual network set up, there will be a need for a lot of effort and time.
By using an automated network, you will be able to increase the reliability of the network. This also contributes to enterprise performance and productivity.
When there's the implementation of automation, you get different tools that can alert the IT team even before any issue.
If an enterprise wants easy management work, less downtime, and less effort then automation is what they need.
Removes the chances of human error
Can you think of business operations without network automation? Well, the answer would be no as manual networks increase the risk of human errors. In an enterprise, there will be several complicated network related manual processes that have to be done precisely. At times, the proficiency of the network engineers will also not be enough for managing these complicated network tasks.
Errors in the network are not going to help any enterprise. The best way to avoid this error is to switch to network automation to automate multiple processes. Automation replaces manual tasks which also lowers the chances of human error occurrence.
Here's how automation reduces human errors is:
Automation makes it easy to find the loop hole that can cause any issue in the future
The implementation of network automation will also make use of different orchestration tools that can easily prevent the network from breaking down. By using automated networks, you can also increase interactions between different devices of the network. This ultimately results in the elimination of human errors which causes network downtime or failure sometimes.
Offers tighter data security
It's a fact that automating networks gives businesses an infrastructure that is responsive to changes and ensures security. Be it a manual or automated solution, there will be the use of several devices in the network. Sometimes, it is difficult to manage all these devices as a result of which the cyber threat increases.
Here's how an automated network ensures security:
Each of the devices will have some crucial data which can only be managed with automation. If you want complete security and no cyber threats then switch your network to the automated ones. Automated networks only allow authorized access which ultimately saves the data stealing.
With the help of automation, there will be a significant improvement in the cyber security teams. They will be able to precisely detect security risks and rapidly respond to them.
No more extra workload on the IT team
In any enterprise, there's a crucial role of the IT team takes care of various technical works. But, the manual networks can be somewhat challenging for the IT teams too. Any work that is done manually will cause a burden to the IT professionals of the enterprise. Because of manual processes, the company's IT team will have to manage, deploy and configure the network tasks.
But, bringing change in the network through automation will be an effective way of easing the tasks of the IT team. By using automation software,the entire IT team can be relaxed and focus on other strategic initiatives and tasks.
To sum up
Today, the only aim of any enterprise is to be productive and efficient for which they make use of network automation. By replacing manual networks with automated ones, enterprises can achieve better agility in business operations and security. In addition to this, an automated network is suitable for making your IT team concentrate on crucial and core business operations.
That is why there's a great demand for switching to network automation technology which makes enterprises get a market advantage. Most enterprises have now shifted to automation because of all these mentioned reasons.