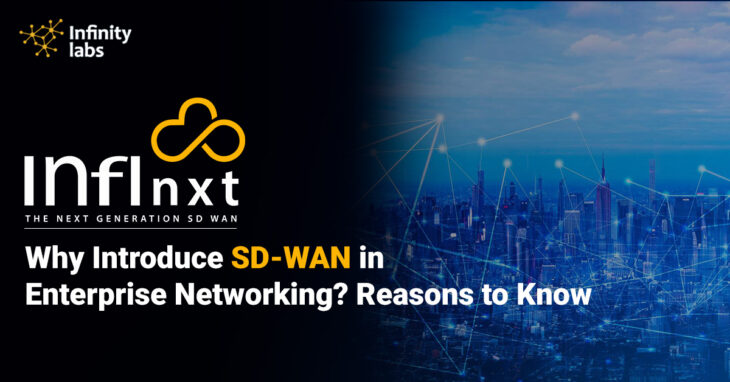 In today's world, companies and businesses are switching to digital transformation to be with the market trends. But, this somehow increases complexity because of the increasing number of applications and devices. For proper management and efficiency, companies are now switching to SD-WAN which is a software-based technology. In addition to this, this solution also works effectively to cut down the expensive hardware and routing costs.
Multiple industries adopting SD-WAN solution
Reliability, no downtime, and security are some of the advantages of SD-WAN because of which many industries are implementing it. Right from retail to healthcare, different industries are adopting this WAN architecture for efficiency, productivity, and customer satisfaction. Any company that is relying on its network then they will have to start adopting SD-WAN.
This is a great solution for businesses and companies that has multiple branch offices and they require to establish secure connectivity between the branches. Medical facilities, the manufacturing sector, and finance are some of the crucial industries that can flourish with the features and benefits of SD-WAN.
Let's dive into some of the main reasons why businesses are introducing SD-WAN:
Provides self-management
An enterprise network requires doing various repetitive tasks such as configuration, tracking, security, analysis, and so on. If a business is using traditional WAN architecture then all these tasks will be performed manually. The IT team and network engineers of the company will have to do all these repetitive networking tasks.
Also, a business that has multiple locations and branches requires to focus on the incoming & outgoing data in a network. In addition to this, the multiple devices attached to a network also need to be monitored. If a company's IT team is giving all their efforts and time to these repetitive tasks then they won't be able to focus on core business functions.
This is the reason why there's a need for the introduction of SD-WAN in networking. SD-WAN uses software so it becomes easy for a business to take care of all the tasks. This newer WAN architecture brings the advantage of self-management in which human intervention reduces to a great extent. Be it tracking or analysis, all these will be done automatically through SD-WAN technology.
Through this WAN architecture, you'll also be able to get insights into your WAN statistics. This ultimately makes it easy to manage security concerns and improve network performance.
Solves enterprise's security concerns
Businesses that have multiple offices, sites, and remote locations need to be extra careful about network security. With so many access points, it becomes difficult to take care of network security. Companies with traditional WAN or MPLS architecture cannot easily manage security concerns because of network complexity. When you implement the features of SD-WAN, you get end-to-end encryption that is useful for businesses from different industries.
MPLS WAN architecture functions through a private network but certain limitations impact the network connectivity in terms of flexibility and scalability. One of the reasons for introducing SD-WAN in enterprise networks is to secure the data in transit.
No doubt, SD-WAN is secure which means that there are encrypted end-to-end tunnels across the whole network. Because of this, it is a great option for businesses that don't look for any other additional security over the WAN. With SD-WAN, your businesses will get multiple security solutions that are in-built such as encryption and firewall
Cost-efficient option for global network
Saying wouldn't be wrong that the SD-WAN solution is the cheapest and better WAN option that saves a lot of money on networks. When organizations witness the increased deployment of cloud-based applications, the cost of WAN also increases. This is because of the amount of data that is traveling over a WAN so ultimately there will be increasing network operating costs.
According to reports, companies witness around 40% cost reduction when they switch to the SD-WAN solution..
Fortunately, SD-WAN can reduce the overall operational cost of networking. SD-WAN does this by creating tunnels for different branches and bonding network links. It's important to notice that this is not possible when you rely on MPLS traditional WAN. If a company requires both network performance and cost reduction, it should choose SD-WAN as a better WAN architecture.
Improvement in WAN and network performance
With SD-WAN, organizations get the solution of faster business connection. This allows the usage of various WAN links simultaneously. In addition to this, this software-define WAN has configurations that can prioritize traffic as per the priority. Also, it chooses an efficient route for transmitting the traffic. This way, SD-WAN can improve the WAN and network performance with ease.
Fortunately, SD-WAN also has the feature of Artificial Intelligence (AI) that helps in controlling traffic and selecting the best route. Because of this, there can be seen an improvement in the user experience. So, most of companies are looking for trusted SD-WAN vendors that can assure better service to them.
To sum up
SD-WAN is a quickly spreading technology that is also the need of the hour for enterprises and organizations. This latest WAN architecture is a cost-effective way to connect different branches to their data centers. In addition to this, SD-WAN assures reliability, and network performance, lowering the risks of data privacy and self-management. All these reasons make businesses introduce SD-WAN to the network and IT practices.