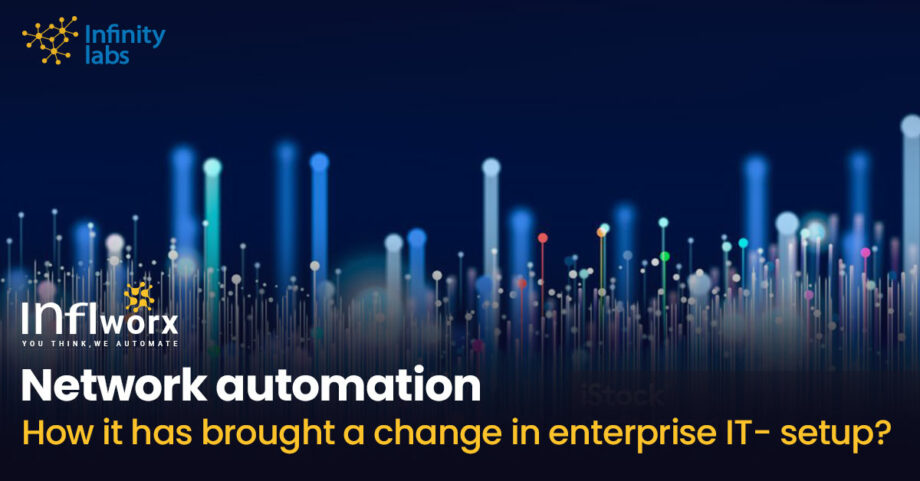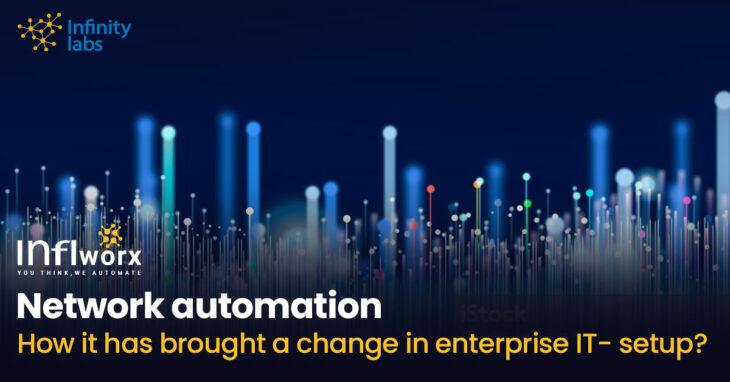 Today, the need for the advancement of technology has made most businesses make a move toward network automation. Manual networks lack numerous features and benefits. The benefits that a company will get from automated networks will be different from that of manual ones. Let's see how automation has brought a change in the enterprise IT infrastructure in a positive manner:
Situations that require a move to automation from manual networks
If the business is having any security threat, they can move to IT automation. Regardless of the business's size and nature, you can implement automation as it has various in-built security and encryption features.
Another situation that needs a shift to the automated network is the increase in performance of networks. When you add too many devices to the network, you get to see connectivity errors.
When you want to make regular changes in the network, you'll need automated networks. Automation ensures regular monitoring and tracking of data. As a result of which, your IT setup will function well as there will be no delay in applying necessary changes.
Is your company's IT team too much stressed because of network management? If yes then your business requires deployment of IT automation.
When your IT team is not able to do root cause analysis of the networks, you'll have to take the help of automation.
Some of the ways in which automation brings positive changes to a business's network:
Assistance with root cause analysis
Businesses that use IT automation get benefits from extensive network analysis. There's a need for regular tracking and monitoring of the network so that required changes can be applied. It is necessary to identify any problem or error in the enterprise network. Root cause analysis of the network helps in knowing what is happening within the network and connected devices. If there is any error then it can be solved before it causes downtime or outage. With automation, you will be able to find the source of a network problem. This ultimately helps in resolving the errors and avoiding network outages in the future. The analytics reports of the automated network will also assist in identifying issues and providing solutions.
In addition to this, constant network monitoring also helps in offering accurate solutions to further improve networking. So, understanding network connectivity and its analysis is essential for working within the network. This is why, it is important to move to automation as it gives accurate details about the IT setup of an organization.
Ensures operational functioning of the network
A business always requires an improved network for its connectivity. The remote branches and offices of a business need to be connected well. If there's any connection issue, there will be no data transfer which impacts the functioning of the business. So, the business that is relying on a traditional network might face some issues with the operations of the network. Network outage, downtime, and failure are some common issues that you might experience.
If you want the prevention of these network failures or analysis issues, you must switch to automation. This is because legacy networks cannot meet all these networking requirements of an IT set-up of a business.
If your IT setup is based on automation, you don't have to witness any issues in the future. Automation within the networking is based on software that provides a host of operational benefits for businesses. One of them is that all the processes will be done automatically without the intervention of humans. As a result of this, there will be chances of occurrence of human errors. Its automation is also beneficial in ensuring that all the operations are functioning well without any error or delay. On the whole, it will also contribute to higher efficiency and productivity.
Resolving network outage issues
In this digitally transformed space, each business is using networks and information technology. This helps them to ensure connectivity for productivity and efficiency. However, various complicated situations can occasionally come. The main source of errors and issues is the additional devices and applications in the network.
This way, the chance of occurrence of network outages increases with the number of additional devices that are connected to the network. Many businesses think that they have a great team of IT experts to manage these issues. But, even dedicated IT specialists won't be able to fix the networking issues manually
With network automation solutions, it is easy to manage a vast array of devices and their data. This is why, most companies are automating their operations so that network outages can be solved. In case of any outage, your business will come to a shutdown which no one wants to. The majority of these problems occur in manual networks. To resolve the network issues, you must move to automation from manual networks. Automation manages all the data, takes care of network issues, and monitors the changes. With all these functions of automation, there will be no issue of network outage in your company's IT setup.
To sum up
Moving towards network automation from a manual network is the best option especially when the business requires efficiency and productivity. With IT automation, your business benefits in many ways by addressing network glitches, solving network issues, and simplifying network management. Automation can streamline business workflows that deliver measurable competitive advantages