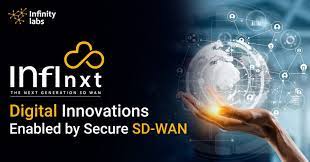 It's 2021, and SD-WAN or Software-Defined Wide-Area Network remains the proverbial flavor of the season, with 80% of all enterprises expected to define their SD-WAN strategies by the end of this year. 90% of WAN edge infrastructure refreshes are set to be on SD-WAN or vCPE platforms by 2023, miles ahead of a mere 40% in 2018.
SD-WAN is appropriate for all organizations, irrespective of sizes, and location. It is deservedly considered the go-to option for businesses willing to consolidate network functions and services and simplify WAN infrastructures and their management.
The Bird's Eye View: While SD-WAN's apparent benefits for distributed organizations as an alternative for branch WAN validate themselves, we tend to overlook the bigger picture.
"The substantial increase in SD-WAN's acceptability must be identified as a clear sign of renewed digital network transformations and innovations."
Supporting digital innovation initiatives requires shifting data, applications, and workflows to the cloud. Network edges relying on traditional MPLS connections for backhauling traffic through the corporate network need to evolve. Therefore, enterprises are understandably transforming WAN architectures with SD-WAN.
The Roadblock? Most basic SD-WAN solutions lack an essential feature – "Security," or precisely describing, "Integrated Security." That's where a Secure SD-WAN steps in!
Let's explain SD-WAN with integrated security or Secure SD-WAN. We'll list what it brings to the table, learn how it promotes digital innovations, and go through some of its use cases.
SD-WAN with Integrated Security: Secure SD-WAN
Secure SD-WAN is a combination of SD-WAN and security features.
Consists of SD-WAN, advanced routing, WAN optimization, and industry-leading next-generation firewall security.
Provides networking and connectivity features of the advanced SD-WAN with integrated, enterprise-class security, and centralized management.
The Relevance of Secure SD-WAN for Digital Innovations
Delivers a security-driven WAN edge.
Performs better as part of a security-driven networking framework, blending networking and security functions for simplifying configuration and orchestration.
When Secure SD-WAN and a security-driven networking framework are combined with a platform deployable in any environment and form factor, it means it can be deployed across numerous locations.
Unlike many traditional SD-WAN solutions without built-in security, the strategic approach enhances the capabilities of devices, users, applications, and workflows for connecting to other resources from different locations, using any devices.
Gets seamlessly placed in the branch, the cloud, or via a hybrid approach.
Safeguards enterprises' network infrastructures from cyberattacks without compromising performance.
Can be flawlessly assimilated into the larger corporate security framework.
Prepares organizations to handle digital-innovation-induced security challenges effectively and facilitates self-healing, reliable networks.
Employing Secure SD-WAN: Use Cases
An ever-growing number of organizations are leveraging Secure SD-WAN for improving branch WAN solutions, business-critical applications' performance, implementing flexible environments, strengthening defenses, and increasing productivity, and competitiveness.
Use Case 1: A Fortune 500 Company
Encountered performance slow-down, poor user experiences, and flooding of the internal network with additional traffic. The reason was backhauling of traffic to data centers to ensure security, enabling the existing WAN solution's centralized inspection and filtering of transactions.
Secure SD-WAN helped reduce complexities through advanced routing BGP capabilities, route-based path selection, and building overlay VPN tunnels to the same destination address. All these built-into-Next-Gen-Firewall capabilities reduced security, routing, and connectivity devices necessary at every location.
Zero-touch Provisioning led to quick deployment management. Centralized management permitted easy integration with NOC/SOC solutions.
Secure SD-WAN was tied to local switches and wireless access points for enabling a full SD-Branch solution. Thus, SD-WAN and security capabilities were extended into thousands of branch LANs, future-proofing the branch environment.
Use Case 2: A US City
Wanted to add new controls for protecting its cloud environments, and expanding connectivity options for employees and citizens.
Secure SD-WAN at its branch edges was combined with Secure SD-WAN for multi-cloud to connect public cloud environments. It expanded and enhanced its connectivity to the municipality's Microsoft Azure Cloud and Oracle Cloud Infrastructure services.
Secure SD-WAN was interconnected with access points at all branches to extend WAN functionality and protections into every branch network's LAN. It translated into a consistent application of security policies across branches through a centralized management console.
Similar connectivity and security standards were applied in its Azure and OCI environments, leveraging cloud-native integrations and security automation.
OPEX and CAPEX budgets were merged into a single project, lowering overheads.
It decreased city IT teams' operational complexities, and brought down the total cost of ownership (TCO) for security and WAN technologies.
Digital innovations are steadily rewriting the conventional rulebooks for businesses across sectors. By 2025, as per a Gartner prediction, all industries will be transformed by digital technology capabilities.
SD-WAN is a globally-acknowledged, highly sought-after approach for supporting digital transformations.
Modern-day branch offices are sharing resources and participating in transactions spanning the distributed network. They are less secure than their core networks due to a lack of in-built security with traditional SD-WANs and becoming more vulnerable to sophisticated cyber threats.
SD-WAN solutions without integrated security necessitate customers to figure out deploying security across their WANs on their own. It makes SD-WAN deployments time-consuming, expensive, and less agile. That's where a Secure SD-WAN presents a compelling case.
Infinxt Secure SD-WAN ensures business agility, inherent economics, and optimized cloud architecture. It offers incomparable features, enterprise-class security through an inbuilt next-generation firewall (NGFW) powered by Palo Alto Networks, improved application performance, user experiences, business productivity, and reduced costs.
Discover more about InfiNxt – The Next-Generation Secure SD-WAN.
Sources: Firewall.cx, GeeksforGeeks.org, BusinessIQ, Security Brief, Nojitter.com, CSO India, Networkworld.com, 2020 State of Operational Technology and Cybersecurity Report, G2.com, Tech Observer, Gartner, Security Intelligence, IDC, Security Round Table, Fieldengineer.com, Infinitylabs.in, Infinxt.co.in, YouTube, and other information channels.