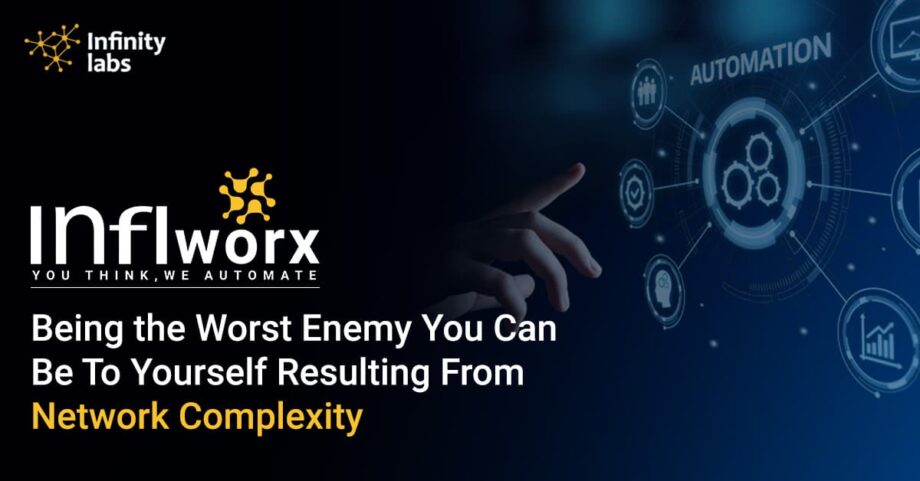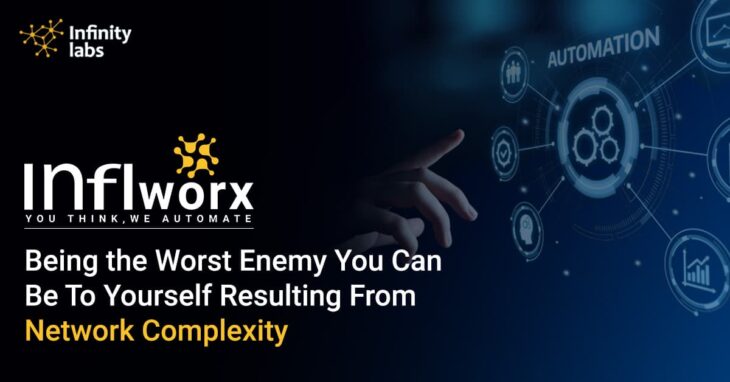 The phrase "Number of nodes and alternate paths existing inside a geographically distributed computer network, communication medium, communications equipment, protocols, and hardware and software network platforms within a business" can describe network complexity in a wide sense.
Businesses' transition to a hybrid IT environment increases network complexity, which presents difficulties for IT professionals. For overcoming the same, organizations urgently need to reconsider the functioning of network automation solutions.
Network Complexity for Businesses
The network of a company expands and becomes intertwined with the apps, devices, sensors, and users as more of its consumers become linked. The problem with this is that the expense of controlling network complexity management may be greater than the benefit.
Growing a network might result in more inefficiencies and vulnerabilities. Its severe effects are made worse by growing network complexity.
A company can learn about the rate of growth in network complexity through routine measurements. The measured speed enables the network administrators and IT directors to better control it.
In the next section, we will talk about the factors that are major responsible for causing network complexity.
Factors Causing Network Complexity
Obsolete Networks and Devices

The main factor causing network complexity is non-growing networks or devices. The amount of sites that businesses connect to is roughly the same as it was a decade ago. The data center is the only place where the number of network devices has increased due to innumerable technology layers.

Managed elements are added by switching, administration, and network orchestration, among other things. These add complexity due to many issues needing to be resolved and each layer being connected to different management techniques and assets.

Businesses also struggle with finding and keeping employees in this area. It can be easy to locate someone with just one network talent. What are the chances of finding someone with various networking talents, though?

All organizations concur on the network of a single automation vendor. This will help in resolving problems of this nature. This runs counter to standard business worries about price gouging and vendor lock-in. However, more businesses are getting informed about the accessibility of unified operations tools and processes.

Over-Reliance in the Network

The second most common critique of AI/ML in network operations is over-reliance. Being aware of your surroundings is essential in a network operations center (NOC). The NOC workers might get disconnected easily from what is happening in the network. It is simple to overlook significant patterns or forget about previous automated changes. However, given that AI and ML are doing routine tasks, they must be taken into account when the staff must intervene and take any action.

Over-reliance and unrealistic expectations from senior management must be resolved. The NOC standards and practices need to be in check. It will be more difficult for the NOC to intervene if AI is unable or unwilling to complete a task.

With the implementation of services and technologies like SD-WAN and SDN, network complexity has risen. The use of artificial intelligence (AI) and machine learning is essential for automating network operations, planning, and customer experience enhancement.

In order to enable automation in network operations, communication network researchers have been enhancing the network architecture, control, and management.

More Demanding Users and Changing Technological Solutions

Because of the users' demands and evolving technological solutions, the organizations' DevOps and NetOps teams' efforts to solve the issues of network complexity. The effectiveness of the NetOps teams has decreased by almost 50% since a few years ago.

Remote locations, industrial sites, and Internet of Things (IoT) deployments are all included in the scattered footprints. This is a crucial step in delivering experiences and cutting-edge technological solutions, enabling DevOps complexity teams to produce apps while also tying audiences and devices together and taking into account variables such as access control, data gravity, mobility, privacy, and security.
Every Problem Comes with a Solution
Here are several ways to get over the network complexity, which is one of the challenges to IT's efficient operation.
Network Automation Platforms

A smart place to start with network automation is by automating basic configurations. The setups are simpler to create and pose little threat to reliable network performance.

Platforms for network automation tackle difficult tasks without the need for network administrators. A solution brings about the adjustments required to move to the new configuration. If the configuration is as intended, there will not be any changes made to it.

Businesses must take into account network orchestration to boost IT agility while ensuring network security and compliance since network security has become too difficult to maintain. A network orchestrator uses software to control networking, getting rid of unnecessary activities and providing more functionality and security. Through a fully featured dashboard, the network orchestrator boosts the network's resilience by decreasing the time required for diagnostics, monitoring, and orchestration in the storage network.

Intelligent Automation

A network should be made intelligent, not just automated, by the automation suppliers. Without adding more levels of complexity, this must be done. The network automation configuration must be replaced with a "single point of truth." Intelligent automation application finally results in reduced costs, excellent product quality, less SDLC friction, and accelerated network speed.
Conclusion
Your network is only as strong as its weakest link. However, what are you doing to ensure that every link on your network is as strong as it needs to be to handle your growing business needs? If your network is not designed to be resilient to outages, your business can be impacted negatively by a temporary outage, or worse, a permanent outage. We hope you enjoyed this blog post, please contact us anytime if you have questions about how to design your network to be resilient.