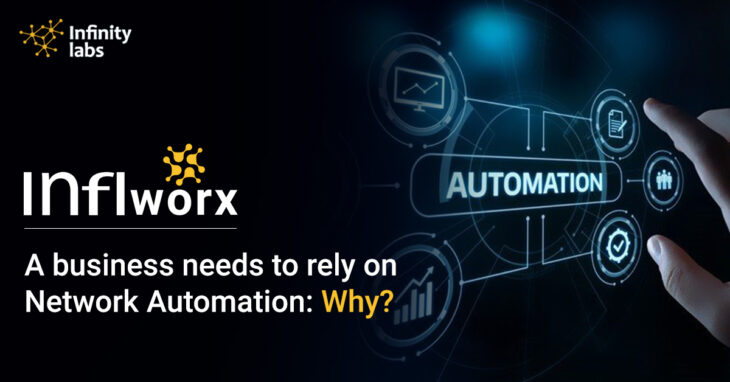 Every enterprise is looking for a technology that can improve its regular business operations. But, they don't focus on how well their network is working. Be it configuration, adding up more devices, or management, many things are there that constitutes a network. To ensure each regular business operation is working smoothly, businesses have to focus on their networks also. Over the year, network automation has proven the best solution for businesses that want to achieve better performances and ensure security. 
Are you still confused about why a business should rely on automated networks? Want to know this in detail? If yes then scroll down and keep reading:
Removal of configuration errors in

the

network

 
As per some reports, most of the network fails because of configuration errors. This configuration error counts around 40% and in some cases, it can go up to 70%. It mainly happens when the business is still following the manual processes of networking. Because of this, there will be higher chances of errors as most of the configuration works are done manually.
Many businesses think that they have a competent and knowledgeable IT team that can manage network issues. But, this becomes a problem when the in-house IT staffs have to manage various devices attached to the network. Right from making minor adjustments to the network to troubleshooting issues, numerous things require automation in the network.
If businesses don't want to witness network errors and configuration drift, then it's better to rely on the latest technology. Along with removing the chances of human errors, IT Automation also results in improved precision and productivity.
Accelerated business service
Businesses need to adopt agility to thrive in this competitive technology world. The expansion of the business makes enterprises use more devices in the network for connectivity. But, adding more devices on devices can be sometimes challenging as it creates a lot of risks of network failure. In case there are any network glitches, this causes downtime and slows down the business operations.
Secondly, the utilization of manual networking processes in many enterprises also causes a halt in performance. One fact that no one can ignore is that networks are prone to be slow and unresponsive sometimes. Because of this, there will be performance–related issues. If a business is using manually managed networks, it might experience downtime due to complexities in networks.
Avoiding such issues and accelerating business processes is possible by deploying network automation. Automation in the network can help in making quick changes, removing the issues of the manual process, and enhancing the overall network's performance. This is one of the crucial reasons why businesses must rely on automated networks for their business's growth and performance.
Deep analysis of the network problems
A network helps to connect with different locations and branches of the enterprises. But, you cannot forget that networks can be unresponsive causing several network related issues. In addition to this, the data that is coming from all the connected devices is somewhat tough to manage for the IT team. 
In manual methods of the network, it's not easy to do network analysis for the coming data. But, network analytics should not be ignored as lets you get an insight of how's the security and performance. If you want precise network analysis then you need to implement network automation technology. Most enterprises depend on the IT team and network engineer for analysis performance. But, it only creates an extra burden on the IT team. This is why automating the entire network analysis process is useful for businesses. With the automation in network analytics, it becomes easy to do identification of network problems and get their solutions.
Regular network scalability
While managing the network, different processes must be done at regular intervals of time. This helps in ensuring the proper functioning of the network and reducing the chances of downtime. However, in manual networks, the IT team has to do all these things. But as they're time–consuming tasks, it becomes difficult to check these processes regularly.
Enterprises that rely on network automation don't have to be stressed about the checking of networks. When you integrate scalability in the network with automated solutions, your business will start to experience a smooth and dynamic network. With this, there won't be any issue of network failure or other technical issues in the network. The use of automation software helps in determining that the network is working smoothly. In addition to this, managing configuration issues also becomes easy with automated networks.
Frees up the IT team for

the

high

–

value task
Even today, most enterprises are using manual methods of networking that impact businesses negatively. IT team has a lot of work to do in an organization especially when it comes to network management. Manual Network processes require repetitive task to do. This is not only time–consuming but also keeps the in-house IT team busy all the time.
Downtime, sudden failure of the network, configuration drift, data management, etc. are some vital network challenges. An IT team also needs to take care of these network issues. By automating the process, the business will reduce the burden on its IT staff. With this, they can focus on high value operations of the business. Core business operations require the assistance of the IT team more than network management. Thus, it would be better for any size of business to use a network automation platform.
To sum up
Getting automated network solutions is the best approach for a business. This helps an enterprise to accelerate its business services, reduce costs and deal with network challenges. So, businesses these days prefer to rely on network automation for simpler network management and easy scalability. No matter what the size of the business is, they all are shifting to automated networks for decreased network challenges and data security.