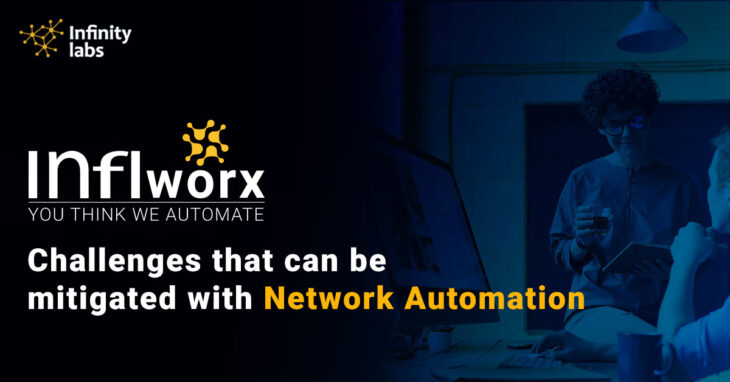 The main problems which majority of the organizations suffer is their complicated networks. An organization may have a variety of issues, from increased risk of human mistake to downtime. The good news is that network automation, a more recent strategy, has the potential to increase business value by automating the network.
Here are a few typical issues that businesses can address with network automation:
In the past, manually configuring networks was the main component of network implementations, which involved IT staff and engineers. Previously, they did this by creating commands for the command-line interface. Therefore, network automation is one of the greatest solutions that most businesses have started implementing.
Network configuration, mapping, and management are made easier by the network automation. Additionally, it enables businesses to automate the network infrastructure in a variety of ways. Advanced automation software will be used during this automation procedure. This automation, which is software-based, aids in determining whether the network is stable and capable of overcoming configuration difficulties.
Risk of human errors
Businesses are utilizing more devices as they expand. It's not a smart idea for enterprises to employ so many linked devices and manage infrastructure manually. The danger of errors increases when manual techniques are used in network devices. Therefore, one of the problems that network automation may solve is the occurrence of repetitive human errors in manual networking.
No matter how competent the company's IT team is, mistakes can still happen. For this reason, the majority of businesses are migrating to network automation, which substitutes recurring network changes for manual labor. There will be more productivity and less chance of human error. Enterprises may stop the network from failing by adopting automated network configuration and utilizing orchestration technologies.
Network downtime
Human error will inevitably occur in manual procedures, which is one of the main causes of network downtime. By automating the network operation, these and other network problems can be resolved. The manual configuration of both physical and virtual devices can lead to numerous problems, so bear that in mind. Because of this, continuing in this manner is neither a realistic option nor a sensible one for businesses.
It would be preferable to automate the network adjustments in order to overcome the difficulties of network downtime. Experts estimate that human error accounts for between 40 and 70 percent of network failures, which eventually results in downtime. An enterprise can improve network consistency, performance, and uptime by switching from manual configuration to automated operations. If the automation solution is implemented correctly, it can also assist in identifying any abnormalities and eliminate the difficulties associated with network downtime.
Complexities of the IT team
The IT team will be ultimately responsible for any network-related difficulties. To ensure good connectivity and minimize downtime, they must keep the networking equipment operating efficiently. The IT team suffers greatly when every aspect of the network is handled manually. Organizations need to consider implementing network automation to handle the network's complexity.
The IT crew won't be under as much pressure once network-related procedures are automated. They merely need to look if the implementation procedure is flawless and error-free. The IT staff is more effective and productive when this type of difficulty is addressed by the implementation of network automation.
Manual network diagrams
The network is becoming more complex as a result of physical and virtual devices as well as various models, which results in changes. Making a network design manually is a laborious procedure that can take hours. Throughout the process, data on various devices, including switches, routers, and so on, must be gathered. Additionally, there won't be any information about network performance.
This is why automation in the network is required. Programmable logic will be used in the automated network to help manage network resources and services. Network operations (NetOps) teams will be able to complete various activities more quickly because to this automation, including configuring, scaling, and integrating network infrastructure.
Network Issues
No internet connection, VPN failures, sluggish performance, connection errors, and other problems can all have an influence on the network. Another significant problem that frequently arises during network connectivity is having network difficulties. Rapid solutions are needed for network-related voice, video, and data difficulties. To fix these network difficulties, the IT crew must be present.
It is not at all a practical alternative to use manual procedures in the network. Even if your IT team tries to employ manual methods, it will take a lot of time. Because of this, connection is ineffective for businesses with extensive networks. Automation in the network would be preferable for handling network-related issues.
To sum up
It is obvious that there are several difficulties and complications in network management that are difficult to handle with conventional network management techniques. The complexity of current networks is too much for the conventional network to handle. Because of this, businesses need to move ahead and use network automation, which helps to streamline processes. IT workers don't have to spend as much time manually drawing network diagrams or debugging problems with an automated network.