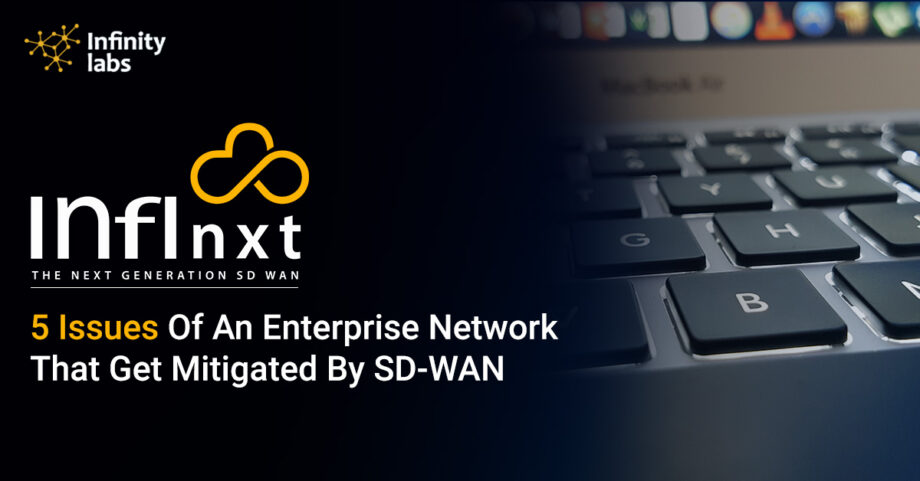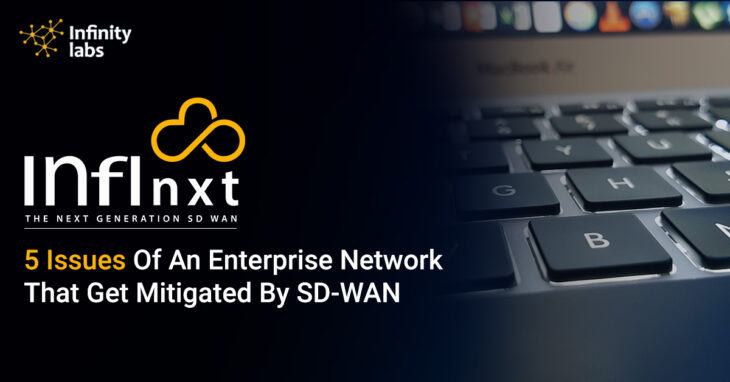 Saying wouldn't be wrong that SD-WAN is not only more efficient but a cost-effective WAN technology than the traditional ones. This solution has many new features which  can ensure  security of  network, better network performance, and excellent network connectivity . SD-WAN can find out which is the best route in case of heavy network traffic.
Along with this, it is also useful in mitigating enterprise network challenges. Let us check out how these challenges get their solution through software defined WAN:
Challenges of network failure
The main concern of any business or enterprise that works on a network is a network failure. If there's any sort of network issue then this is ultimately going to interrupt the communication between different locations and offices. If a network goes down, this costs a lot to the enterprises. So, what is the solution to avoid network outages and failures? The best solution that one can go for is the implementation of SD-WAN which takes care of all network outages.
As technology is evolving, there can be seen more devices in the networks. This makes several processes easy but somewhere it impacts the network and creates network issues.
Network outages can happen anytime but these are preventable if better preparations are done. Software defined WAN can easily solve challenges of network outages with ease. This WAN architecture helps to route network traffic automatically through the best connections. If any business doesn't want to spend too much on network outages and failures then SD-WAN solution is surely going to be a boon for them.
Challenges related to cyber security
Cyber-attacks and cyber threats have become common these days especially after the pandemic when every enterprise is following remote work. This has increased the risk of hacking and cyber theft. These days, enterprise networks get affected by different types of security challenges especially if they've remote offices or different locations. Be it malware or ransomware, all these will impact the network and data security.
Maintaining network security is one of the challenges that every enterprise is facing today. Regardless of the size of the business, each enterprise is searching for a convenient option that can help in network security.
In such scenarios, SD-WAN is a suitable option as it ensures multiple layers of security to the network. This WAN solution aims at enhancing and improving the security strategy with its several new features. SD-WANs security features can work with the enterprise's current security infrastructure to strengthen the network.
Today, every enterprise requires higher security measures that can be achieved through network optimization and advanced security functions of the SD-WAN.
Overburdening of the IT team
If there's a network connection in the business then it has to be taken care of precisely to monitor its functioning and analyze future risks. Management of the entire network, monitoring different devices, and checking the network complexities are some of the repetitive tasks that a network engineer has to take care of. The burden of the IT staff of the enterprise increases if the business is dependent on traditional WAN.
However, SD-WAN technology is the simplest solution that can be beneficial in managing and operating a WAN quickly and easily. It solves both management and deployment issues of a business that has network connections. 
One of the crucial features of SD-WAN is zero-touch deployment which helps enterprises to deploy unconfigured SD-WAN devices to remote locations. So, this doesn't involve any of your IT team members. In addition to this, SD-WAN devices offer centralized visibility so which reduces the burden on the IT staff.  With this, the IT teams can easily update the policies with some clicks . SD-WAN ensures automated overlay and guided work flows which means that IT staff don't have to spend on infrastructure deployment.
Solves the business operational costs issue
Most businesses still rely on expensive WAN for network connections. MPLS is one of them for which businesses have to spend a lot every year. Those businesses that require low-latency and private WAN choose MPLS connections. But, this is not a feasible option to choose if the businesses are concerned about its costs.
However, MPLS functions as a single carrier which is no longer a wise decision to choose. Therefore, SD-WAN is a better alternative to MPLS that makes network connection affordable and easier.
Moving away from MPLS is not only a cost saving but also enhances the performance of the network. SD WAN helps in achieving resiliency which is also useful in strengthening networks and connectivity.
MPLS was a reliable solution for many businesses but not now. Compared to modern alternatives such as SD-WAN, MPLS WAN are expensive. In addition to this, these traditional networks have some limitations that directly impact the overall business operations.
Issues related to slow applications
Network outages, slow-moving applications, and network connections are some of the indicators that create network performance issues. The good thing is that SD-WAN benefits in this situation by increasing performance and strengthening network security.
SD-WAN solves the slow loading of applications and network performance-related issues. This technology can utilize multiple links from different carriers. It also uses multiple links mean reliability and improved performance. If any one of the carriers is facing any sort of network problem then it will switch to another carrier to route network traffic. As a result, there won't be any issues with network performance or slow-moving applications.
To sum up
From the above, one can see how SD-WAN mitigates most of the network problems. SD-WAN is truly a revolutionary technology that simplifies most of the network issues and performances. Right from solving the network outage to maintaining cyber security, SD-WAN does all of this. In addition to this, it is an affordable option as compared to many other traditional networks.